---

2. Fibonacci Defines Stop Loss Levels
A trader can use Fibonacci numbers to set stop loss orders.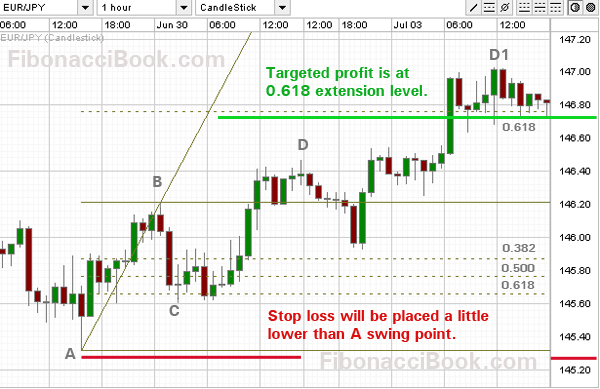 In our example, placing buy order at C point and keeping our protective stop slightly below A-swing point protects us from cases when the price eventually fail to rise and continue moving downwards. Then when it finally passes A point, a strong signal of an upcoming trend reversal will be received. In this case we simply cut our losses short.
Setting stops by using Fibonacci method takes emotions out of the trade by giving a pre-defined exit points.
3. Fibonacci Defines Position Size
When plotted on the chart, Fibonacci tool automatically shows price extension levels, around which profits are taken. This feature can be used to determine risks a trader is ready to take in a particular trade. Because we already know where to set a stop loss, we can easily calculate risk/reward ratio — a level of risk versus rewards well known as one of the rules of Forex money management. It is considered wise picking only such trades that promise no less than 1:3 risk/reward ratio.
For example, a trade is worth entering when you have 20 pips of possible losses (in the case of unprofitable trade when a stop loss order is hit), and 60 or more pips of potential wins in the case when the trade turns winning. 20:60 pips is exactly 1:3 risk/reward ration.
---